Overdued Post ( Draft saved since tuesday )
Remember a week back i received a goodie bag from pizza hut. Consisting of these items ?

Well . Yesterday i decided to be the 'chef of the day' and cook dinner for myself and elaineyuki ! Basically because the both of us didn't had our dinner yet :P For those who're curious to know where and whom did i learnt how to cook spaghetti from, it's during my sec2 days where there's FNN (i'm taking D&T now)

So yeah . Basically i'll be making use of the barilla sauce and also the barilla spaghetti given by pizza hut !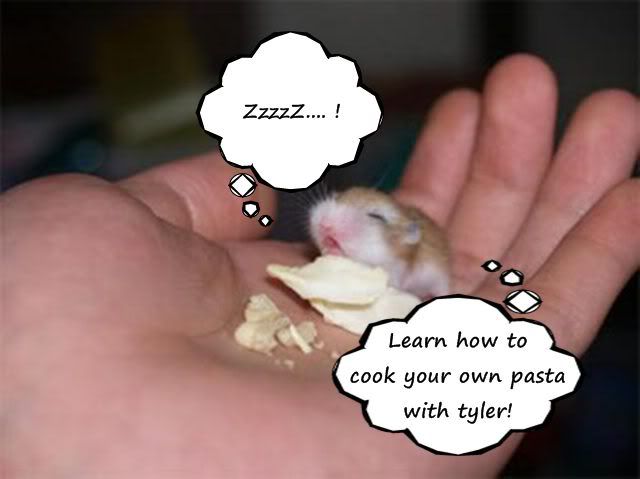 Step #1 - Cooking of the pasta
Fill the pot till half
(

pasta sticks if you apply too little water, apply more dependant on the servings you're cooking

)
.
And bring it to a boil
Place the spaghetti into the pot. Do remember to put more if you're cooking for your partner too! The hard strands of spaghetti will look like this once it's half cooked. Add a little salt to increase the taste and flavour of the spaghetti.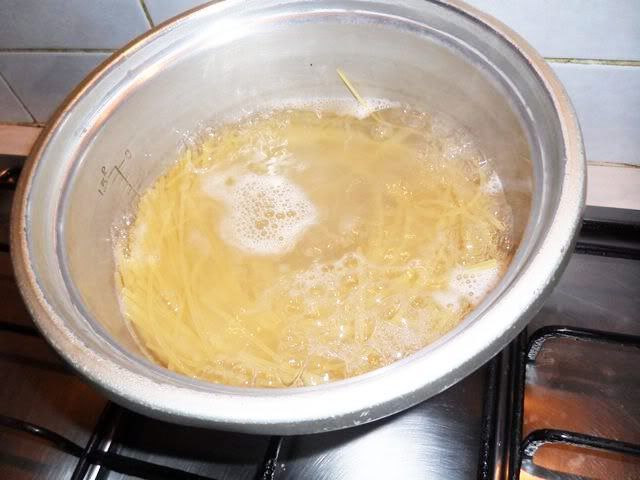 It's readyyyy ( Note that all the spaghetti is floating and it became fatter le ! )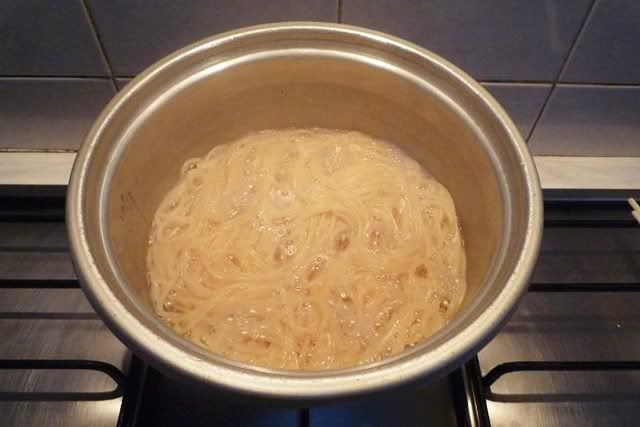 Now drain the pasta into a colander placed into your kitchen sink.
Lift the colander and shake off excess water.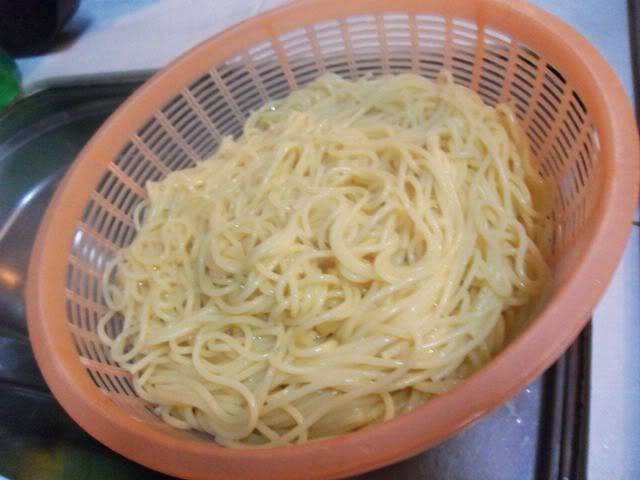 Now you can leave the pasta aside. Just ensure that it's at someplace where there aren't any insects or whatever.
Step #2 - Cooking the sauce
(with elaine yuki as my photographer now! )

First prepare the following ingredients
Must have - One whole onion , half of a garlic , and one whole tomato.
Optional ingredients included in my dish - japanese crabmeat and button mushrooms
I actually wanted to add in beef inside. But i realise i'm forbidden to eat beef inside my house. Out of chicken ):
Do note that you can add in whatever you like. Beef,chicken etc. Just don't add it in large amounts or it'll affect the taste of the overall pasta.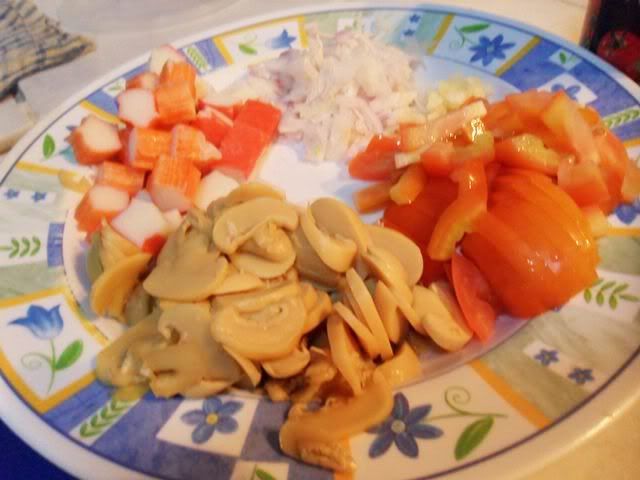 Prepare the wok. I used sunflower seed oil :D The healtheir choice!
And wait till small bubbles form while you poke it with the spatula.
Place the garlic and onions in !
Note : I lost quite an amount of weight due to the medical the doctor gave me ): 2kg !
Once the garlic turns golden brown . You can start putting the tomatoes in!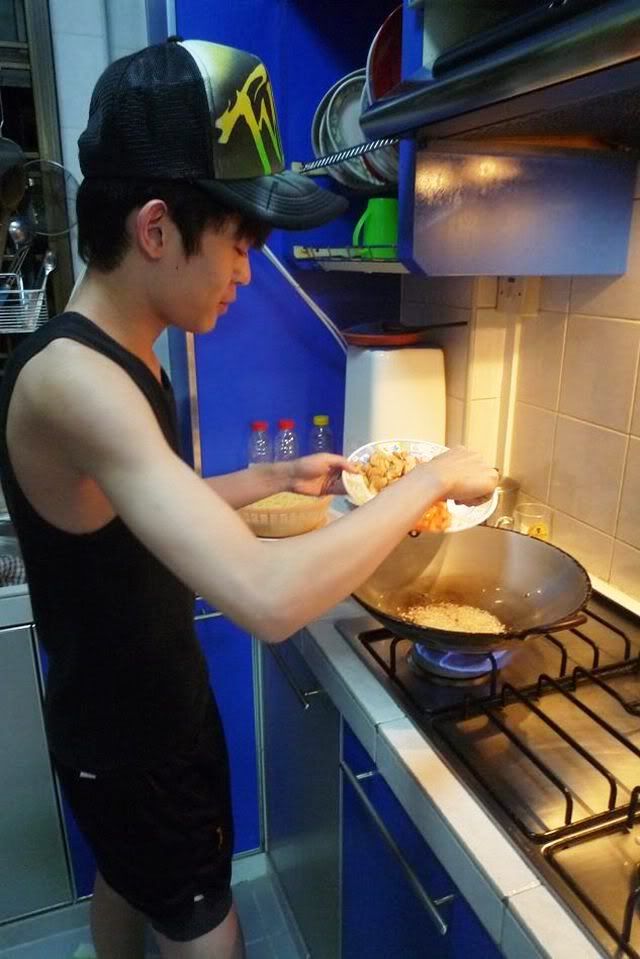 Warning : While using the spatula to mix well the ingredients that's present. The oil will keep poking you. So if you're scared of pain. Do be careful :D
Add in the mushroom once the tomatoes start losing their fleshy selves
(meaning they lose the water content )
Taken by elaine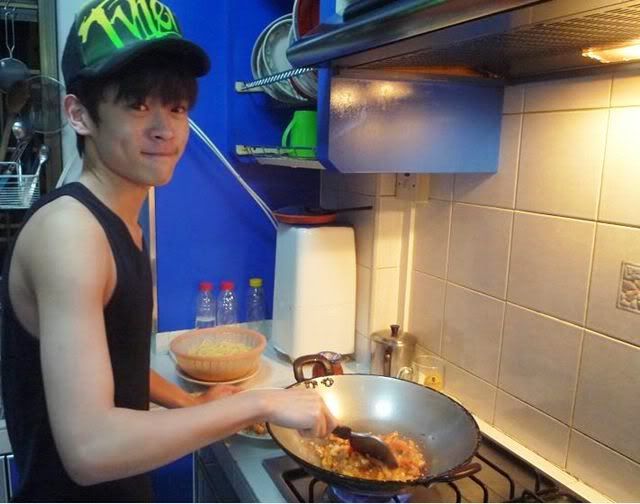 And once you think it's time (obviously not when everything chaotah)
Add in the rest of the ingredients and start mixing !
Once the ingredients are all cooked. Start pouring in the tomato sauce. In this case i used barilla's tomato sauce :D Do add in some sugar & salt to enhance the taste!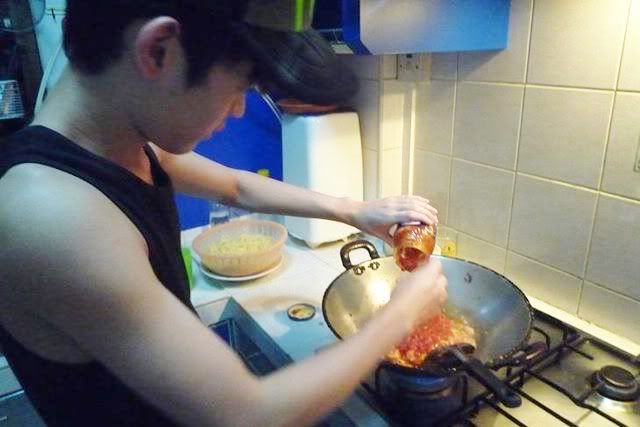 When the mixture starts getting alittle thick . Add in some boiling water (MUST). However, do not add in too much or your sauce will be too waterly. The reason to why you must apply the boiling water is to reduce the sweetness of the sauce, and also to make it less thick. If it's too thick and you'll be eating mud pasta!
Continue stirring the mixture till perfection!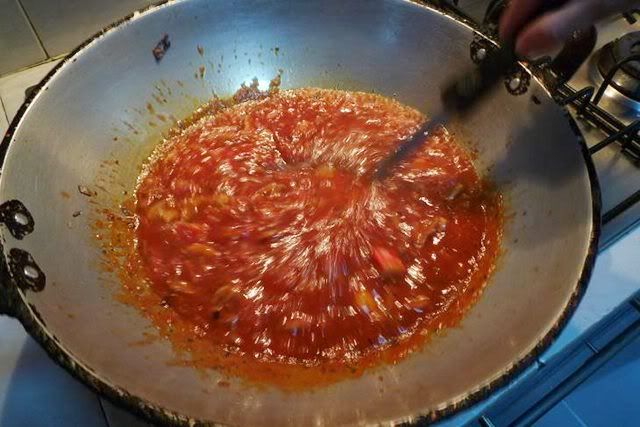 Lower the heat and simmer for another few minutes. And wala you're done!
How does it look ! Hur hur!
Here's elaine posing with the sauce :D She loves her pasta with extra sauce!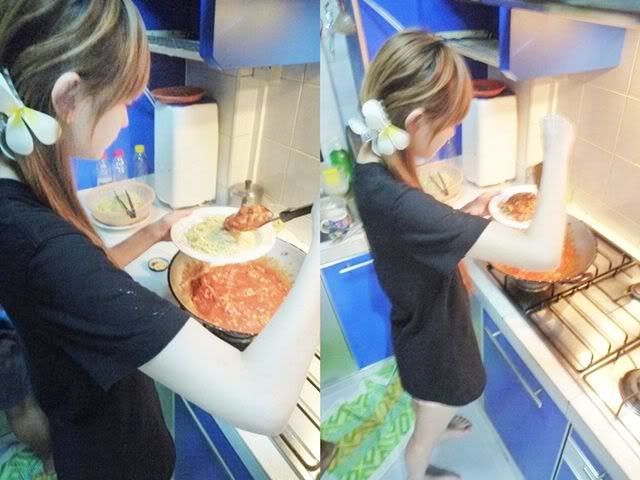 And here's my very own parchment pizza with the peg from pizza hut's parchment pizza!

My way of beautifying the whole aspect of this pasta, which failed big time LOL
+1 tomato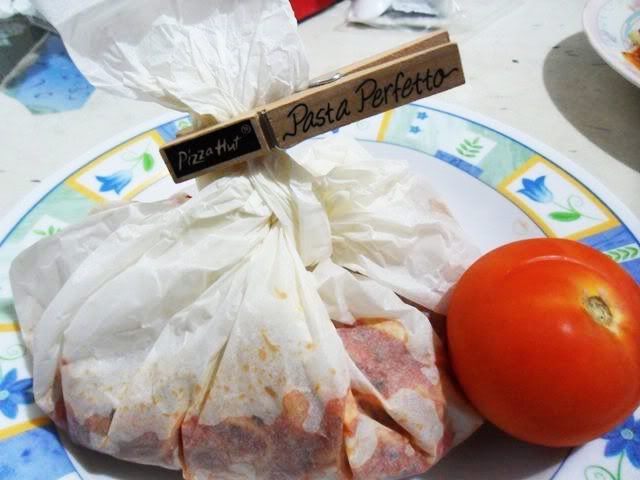 How does it look. Appealing not !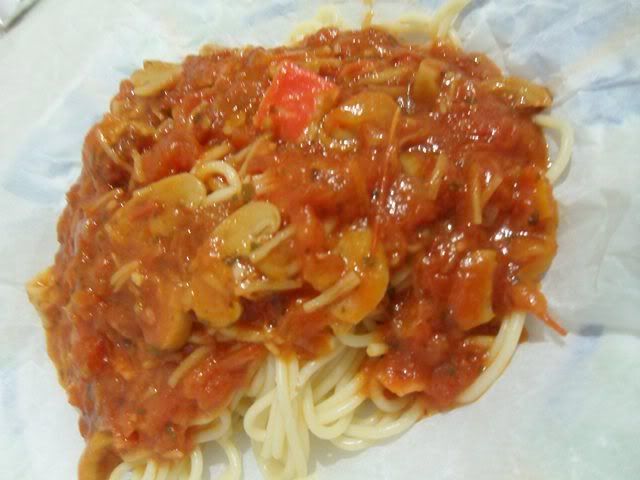 Elaine said that the pasta i cooked was yummeh :D

Hopefully she'll blog this entry up when she's free as promised *cross fingers*
Do visit :
http://myfatpocket.com/blog/elaineyuki/
And not forgetting that i enjoyed my time talking crap with her while dining =) Always love a good heart to heart talk with her.