Sponsered Advert
Oh wait ! Thanks to pizza hut's 2 new pastas . We're able to
unwrap
our food now and be enthralled !
Wait , i didn't even mention what it is yet,but probably most of you people know it already since i think i'm the last blogger to be doing this advertorial
(sorry la, busy schedule ) .
Presentinggggg
....
* beats drum in ancient china style *


-
-
-
-
-
-
-
-
-
-
-
-
-
-
-
-

TADAHHHHHH !
Char-Grilled Chicken Parchment

(L)


Spicy Seafood Parchment

(R)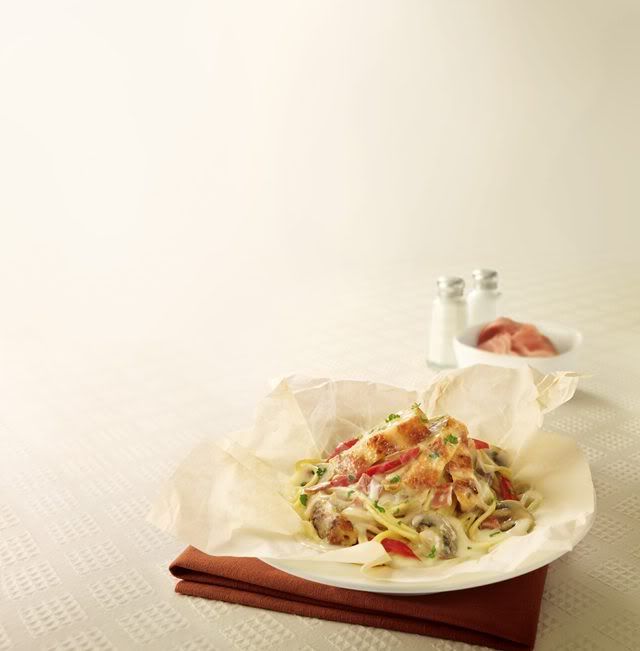 I was selected by nuffnang & pizzahut to be one of the first few lucky people to taste Pizza hut's two new parchment pasta ! The char-grilled chicken parchment pasta & Spicy seafood parchment pasta which are both wrapped up with parchment paper and secured with a cute little peg!
The invitation was on the 24th august where me and 19 other selected bloggers were to be present at suntec's pizza hut by 6.30pm . Since it's my first time participating in such an event, you can imagine the excitment and not forgetting how nervous i was on that present time.
Upon reaching there aloneee
( YEAH ALONE T.T )
, we (
i'm still alone , i meant me and the other bloggers)
were greeted by the friendly management of the pizzahut outlet at suntec!
And i musn't forget to mention how beautiful the whole place looked ! Decorated with balloons , confetti and other decorations, the place looks almost like a party palace celebrating somebody's birthday !
There were other diners other than us of course!
( But they can't get to taste the new parchment pastas =P )
Inside, attendance of the bloggers were marked by our friendly nuffnang staff , melissa ! Where we were directed to the spacious area reserved specially for us bloggers !
Our 'Area' (sounds abit gangster-ish LOL) and other bloggers


May i re-emphasize how beauteous the place looked? The staff of this outlet must have spent lotsa time decorating the place ! Thank you !


It says ' PASTA BLOGGERS '
If i remembered correctly it was during this period of time where i was totally shy. The atmosphere was sooo weird ! Most of the bloggers did not know one another (except for some of them who have met each other during previous events before) , i was one of the bloggers who was filled with awkwardness. I cannot describe how shyyy i was okay !
P/s : Don't say i selfish ah! I would have brought along a guest if i could but i'm not allowed to ):
And another reason why i was super shy was due to the fact that i'm the youngest blogger present to be in this food tasting event! I'm 17 ! The rest were like 20+ ?
YOUNGEST BLOGGER FTW! (Y)
Finally plucked up the courage and took a sit with these friendly people !

While waiting for other bloggers to arrive, i ordered one of the drinks which immediately became my favourite!




Berri Sparkle ($3.80)
A strawberry flavoured sparkling drink with strawberry bits and nate de coco! After mixing up the syrup which is at the bottom of the glass. This drink will be definitely well received by strawberry lovers (like me!) out there !


After everyone was present and accounted for. It's time for the appetisers to be served!


Seafood Tofu Salad ($6.90)

Once you add in the sour sauce that compliments this dish, it perfects the dish as a whole with the mixture of moist the salad gives and completes the taste. This dish is one of the signature dishes in pizza hut, with mesclun salad tossed with seafood tofu chunks and succulent straw mushrooms, served with crispy noodles (Like the mamee biscuit! ) and italian dressing. Salad lovers , be sure to try out this healthy dish!
Next dish up ,
Chicken Riblets
($5.80)
Though i'm not a food blogger, neither am i a food critic, I mush compliment that this dish is very well done =)
The best sentence to describe this chicken riblets would be ...
" Cripsy on the outside , Soft and tender in the inside ! "

And the next dish perfect for a group of 4 ....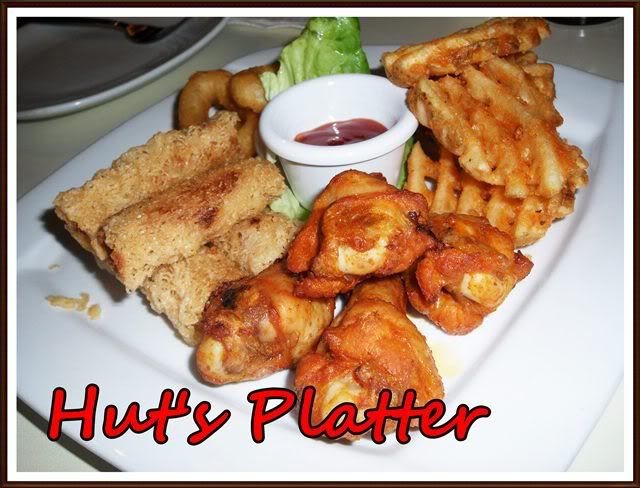 Another signature dish by pizza hut. The hut's platter ! With a mixture of 4 all time favourites - sweet 'n' spicy drumlets, criss cross fries , calamari rings , scallop rolls accompanied by a bed of mesclun salad and chilli sauce . Yum , but however, don't forget how sinful this dish is ! Time for you head to the gym and work out ! *looks at myself ): TOO SMALL SIZED LA*

Before the main course was served, i already have a 2months baby in my stomach (based on size). Yeah ! That's how much i ate even before the main course came. And the main purpose of this food tasting event is not for the appetisers leh ! It's for the 2 new parchment pasta! So no choice , time to eat more, rant less :D (i can gain more weight too!)
FINALLY IT'S TIME TO UNWRAP THE YUMYUMS AND DINE IN !

The char-grilled chicken parchment ! With satiny smooth cream sauce and only fresh ingredients like


And not forgetting being wrapped with parchment paper. The full fragrance of this dish is kept inside and unveiled uponst unwrapping ! Weee woooo !


($11.90)

Just looking at the pictures above can make you drool right ! Imagine i'm one of the first few being able to taste this taste and being the big eater i am. *Happy and yum!*
The spaghetti is from barilla ! #1 brand in italia . Totally completes the pasta as a whole with the ingredients. Ensuring that you'll savour every bite because it's so Q_Q *biong* . Pasta and non pasta lovers will definitely find this dish a one-of-a-kind !
P/s : This is the first time i'm taking pictures of food more and eating less. Normally i would have just gobbled everything down LOL . Not only me ! Other bloggers were all busy taking pictures too!
This dish is
Second yummeh pasta to unwrap !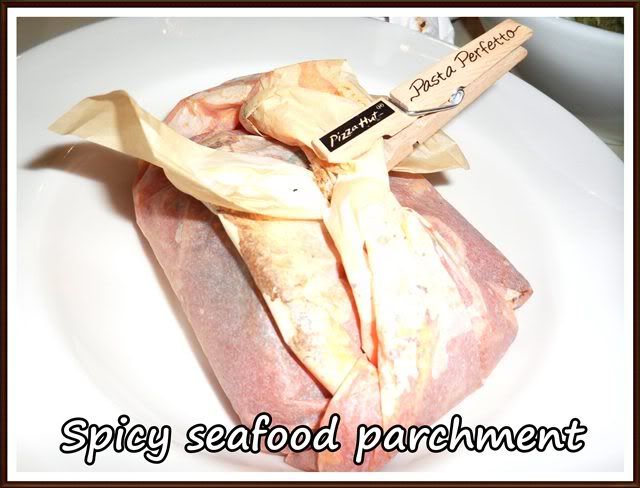 ($12.90)
With pizza hut's special spicy tomato based sauce, prepared al-dente pasta style and with a perfect blend of ingredients like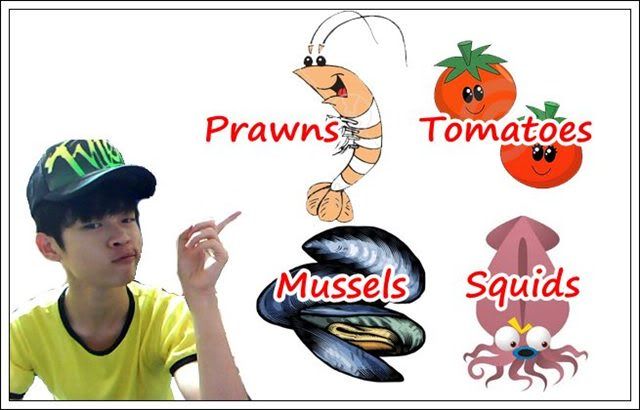 Like the former. This dish is wrapped with parchment paper to keep the fragrance of the pasta and it's ingredients!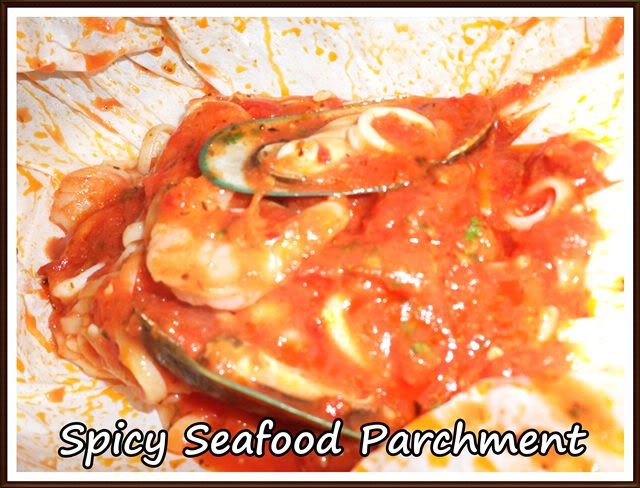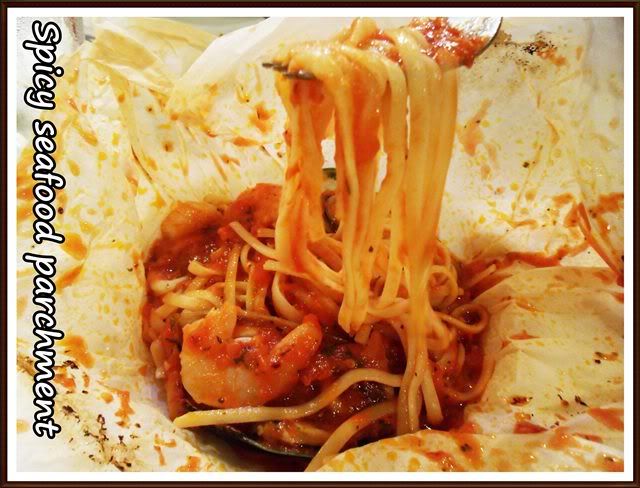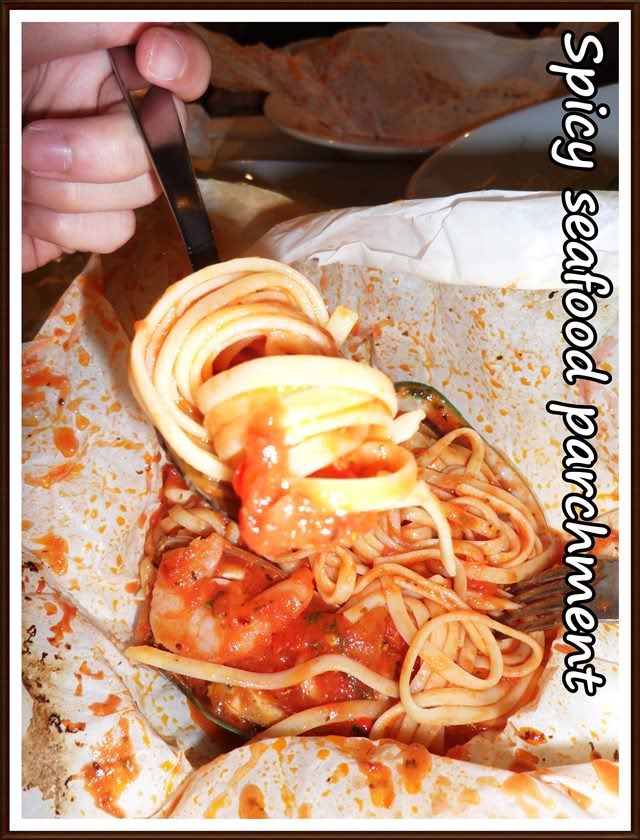 If you love spicy food and seafood, i would recommend everybody to spent some time , head down to pizza hut and try out this fantastic dish ! You can practically see all the chilli padis ! Imagine the spicyness , let's take it to the next level! YUM . Non-stop eating =) DEEEEEEELICIOUS

Envious anot! I have such a big stomach , eat so much , but still so small size -_- Donate some fats please!
This dish is

And finally to end it with sweets, desserts are served ! ($5.50)
Now you can enjoy the best of both worlds (sounds familiar? Miley cyrus/Hannah Montanna! ) , with savoury-sweet brownie cheesecake paired with sinfully rich banana choco mousse cake drizzled with chocolate sauce. This dessert ends the whole food tasting event with a hint of sweetness. Of course, this is one of my favourites in pizza hut . As they say , you need ' sweets for the sweetie ! ' :D
And the event didn't just end with this, goodie bags were given out to everybody!


With this goodies ! Now you can ...
Before i enddd . Here's a group photo of me,william,diana,amber and the staff of nuffnang!
I look
horrendous
here. Thus , i edited away my face with a bright yellow pikachu!
With pizza hut's new menu!
AND ALSOOOOO!
For giving me an opportunity to get a first bite on pizza hut's new parchment pastas and also gain new friends !
I came in with 0 , went out with many ! *happy*
OHYA OHYA i almost forget . You're allowed to keep the pegs of the parchment pizza! You can use it to look silly , and others!

Coincidentally i was having pizza hut's pizza delivery for dinner. LOL

And secondly, i know this post is kinda lengthly. But content wise 9/10 okay!
Head down to your nearest pizza hut outlet and dine in now! You can also head down to
http://www.pizzahut.com.sg/
for more details =)