Sponsered movie review
Was sponsered by omy to watch the
Legend of the Fist: The Return of Chen Zhen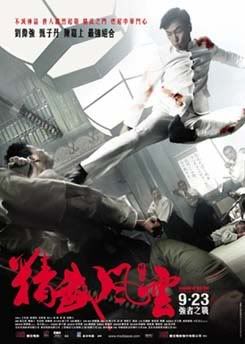 Legend of the Fist: The Return of Chen Zhen ( 精武风云-陈真) is a 2010 HongKong martial arts action flim directed by Andrew Lau.It is an continuation of the 1995 television series : Fist of fury

In this sequel, donnie yen (yes the actor for ip-man1 &2 )would be reprising his role as chen zhen, a role made famous by bruce lee in the 1972's fist of fury.
Movie summary
The film is set seven years after the apparent death of Chen Zhen, who was shot after discovering who was responsible for his teacher's death in Japanese-occupied Shanghai. A mysterious stranger arrives from overseas and befriends a local mafia boss. That man is a disguised Chen Zhen, who intends to infiltrate the mob when they form an alliance with the Japanese. Disguising himself as a caped fighter by night, Chen intends to take out everyone involved as well as get his hands on an assassination list prepared by the Japanese.
Blogger's rating & views :

3/5

stars!
Personally i find this movie really action packed and had great action scenes. The acting was kinda interesting with awesome visuals. However, i felt that some of the fighting scenes are a little wayyy too short and that the japanese lady actually didn't help chenzhen at all! Well , other than this minus points, i still find this movie worth your money and time!
If you're asking me why i rated this movie with a mere 3stars. It would be due to the bad plot and moves that donnie yen would be using in the movie. It's like more of punching than kicking! (in the original fist of fury that i've read from google, chen zhen is supposed to be kicking more!)
But i'm sure donnie yen fans wouldn't actually bother that much really on such minor matters right! =)
Be sure to catch the movie! *be noted that it's NC16*