Have you ever thought of getting your hands on the latest gadgets?
Have you ever seen something you liked and can never afford for it?
Envious of those who can get to have their hands of luxury items you see on the streets?
LOOK NO MOR
E CAUSE FREEZONE IS HERE!!!
What is
Freezone
? I've not heard of it before!
Freezone is a unique gaming site that offers
fabulous prizes
to be
won on an hourly basis
. They offer high end items and aims to offer the highest quality of goods to their players.
Prizes that can be won includes high-end items from Aigner

, a-Jays, Apple, Bose, Canon, Chanel, Coach, Estee Lauder, Fendi, Lee Hwa Jewelery, Miu Miu, Mont Blac, Nikon, Osim, Prada, Playstation, Razer, Samsung, Sennheiser, Sony ericcson, Wild & Wolf and the list goees on!!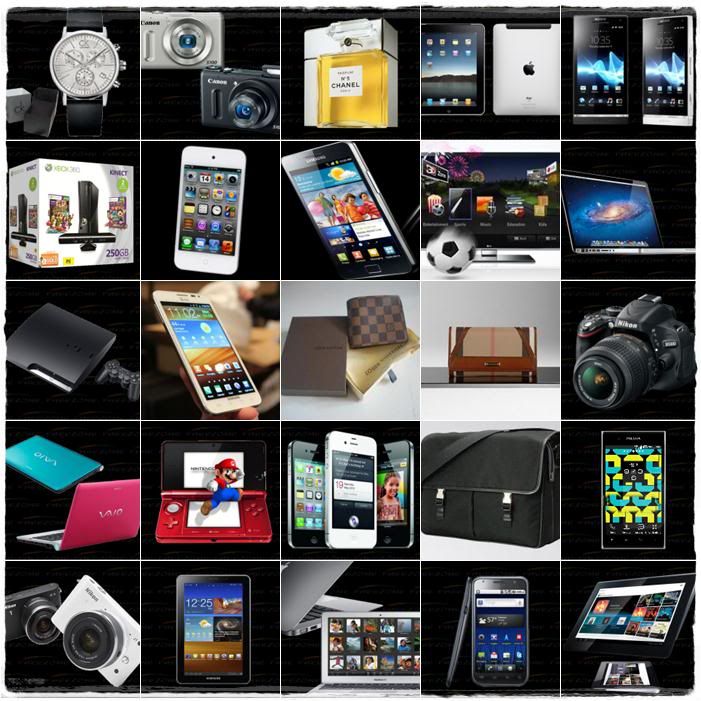 There's other sites like sold.sg, sgbidding and more,
But why choose Freezone?
For me, I've tried purchasing bids on sold.sg before and tried purchasing some small and simple items which aren't even high-end products. I had to strain my eyes as I watch their long count-timers which never seems to end and always extend. Not only did i not win,
my eyes were red
, I
wasted my money
and what's worst is that
I didn't even win a thing at the end as the chances of winning was EXTREMELY LOW.
In
Freezone
, all games are on a
hourly basis
and
ends once the time is up
.
The winner will be the ones who has the most points at the end -
Which means there will be

no more wasting of time

and also

higher chances of winning!
Not only that, all winners are NOT required to pay anything more to claim their prizes and there's also no collection fee!
LOOK AT ALL THE HAPPY WINNERS WITH THEIR PRIZES COLLECTED!!! I'M SO ENVIOUS!!!!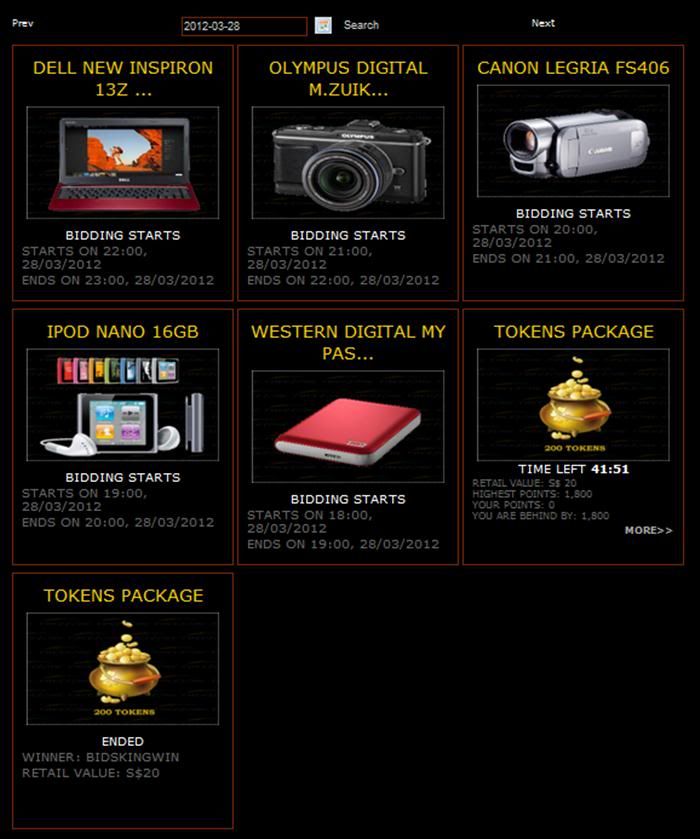 Prizes Vary EVERYDAY!!!!
The pictures below are some of the prizes won by some of the freezoners recently!! Take a look!
Update :
Freezone
also has specific days whereby they tie themselves into the public holidays with special prizes to
ta
rget a certain holiday or special event
!!! For example, on next friday's (good friday), they'll be having a
Golden Good Friday
event whereby they'll be giving out
genuine gold bars, golden eggs
and
everything gold
on that day !!!
YES IT'S GOLD.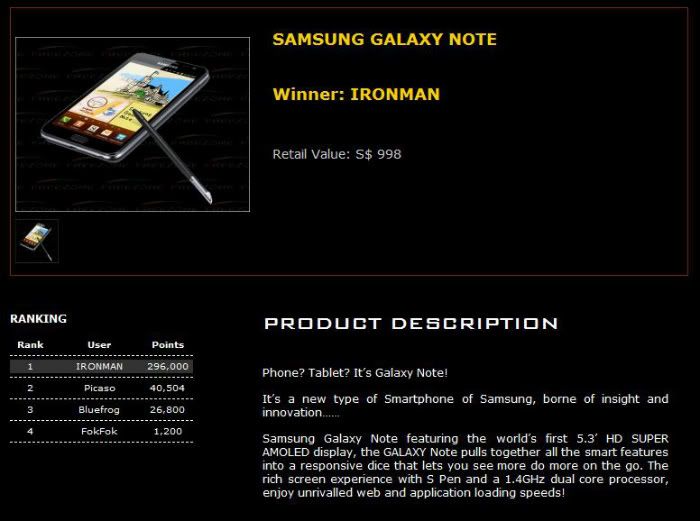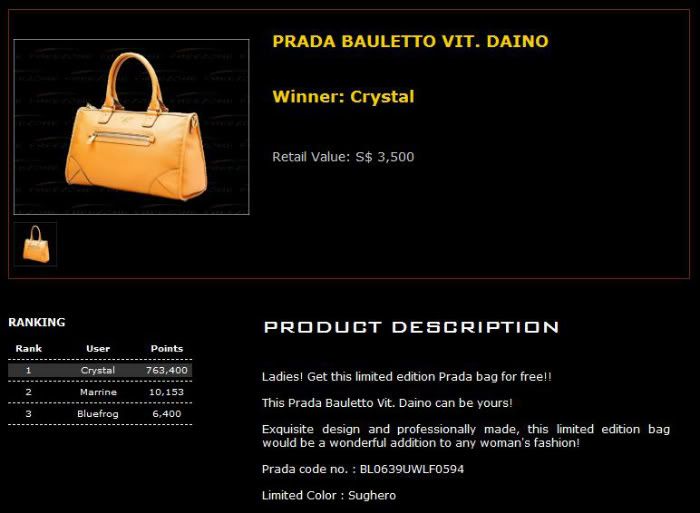 NOW LET ME TEACH YOU ON HOW TO GET STARTED, GET SOME FREE TOKENS AND START WINNING PRIZES YOURSELF!
Step 1 : Visit
http://www.freezone.com.sg/
and you'll be directed to what you see below.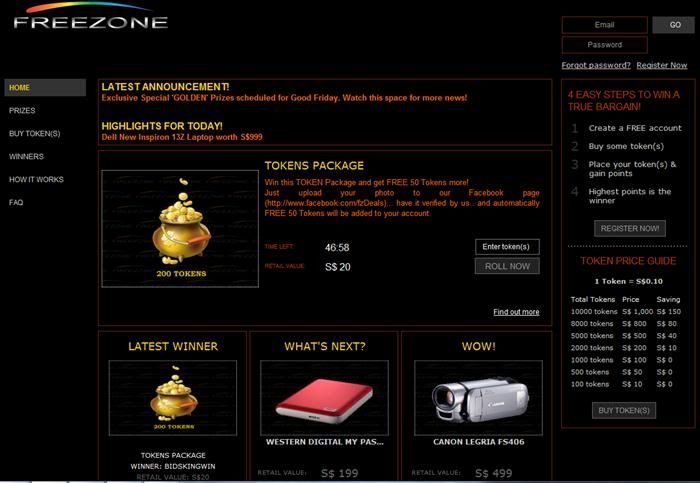 Step 2 : Now you can choose to look at the prizes for the following day but before we do that. Let's register an account shall we? Click on the highlighted area on the picture below.
Step 3 : Enter your particulars on the site, it'll look something like this.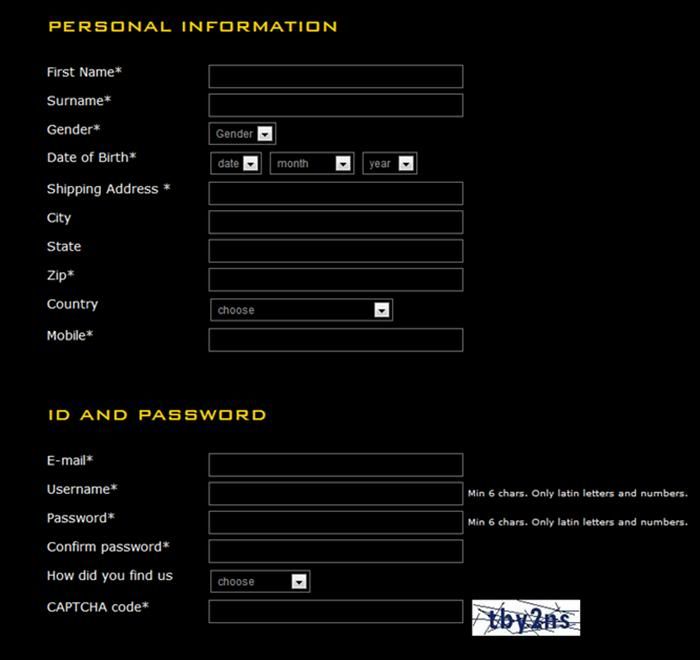 Step 4 : Verify your email address and you're done!!!!
What's more, after your registration is successful.
Freezone rewards you 100 tokens to start rolling
!!!!
It is
totally possible
for you to win amazing prize for yourself with the 100 tokens given. But you can
purchase additional tokens through Paypal
to
boost your winning chances
!
As you can see above,
the more you buy, the cheaper the tokens are!!!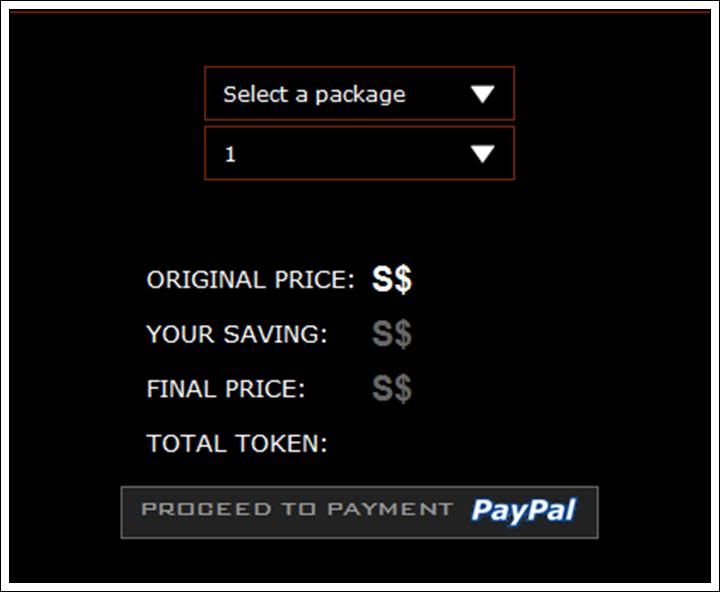 Purchase of tokens is made through Paypal so
no credit card information
is required!!!
NOW IT'S ON!!! TIME TO BID!!!
After you decided on what you're going to bid, you'll be directed to the page of the item as shown below.
The rules of winning is simple. All you have to do is decide on the number of token(s) you would like to use, then click roll!! You'll be given a random number from
1 to 100
to acquire points which would be tallied to your total acquired points.
The number you're given, will be multiplied to the number of tokens you placed.
Example shown below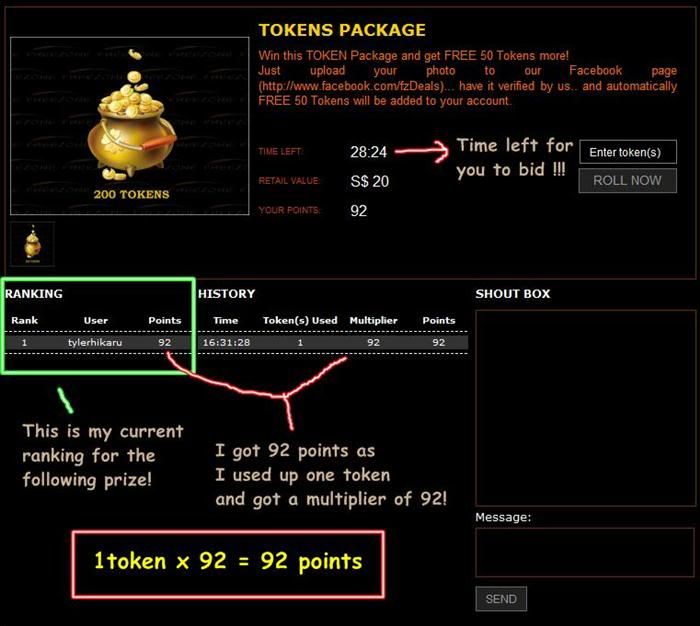 Now you got a hang on how to score points. Here comes the challengers who will be trying to out-roll you and win the prize!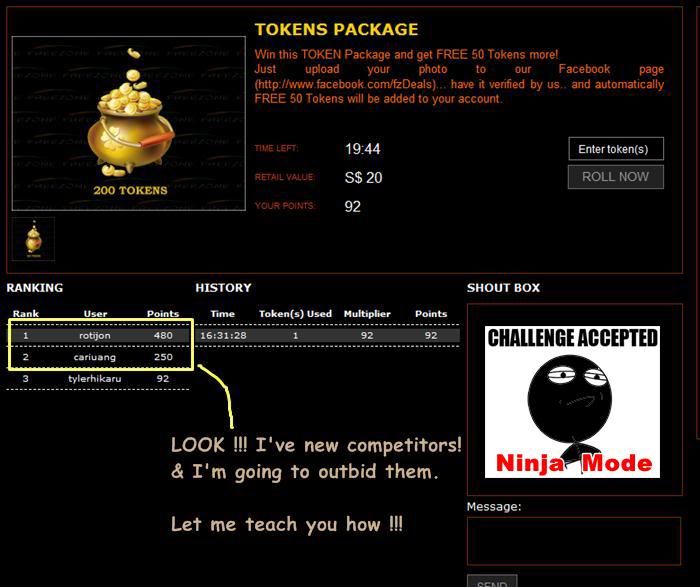 After making observations for days (I really did), I would like to give newbies some tips/advice and ways ways of playing this game!
1) Strategic Playing
By playing
strategically
, you can take your time and roll slowly as the timer starts it's countdown to zero. You can try and roll slowly while waiting to see if there's any other players who'll try to out-score you.
2) Risk Playing
This is one of the most common ways whereby you start rolling only when the timer is reaching 00.00 !! Give the other players a
surprise attack
with all you've got and win! This is extremely popular as i've seen many players doing a surprise attack during the last 10 seconds of the game and most of the time, they actually do win!
3) Observing of your opponents' (other players') behaviours to win
For example, some people only bid during the last 5seconds (risk players). Some of them have a particular interest on different items and will bid only a certain amount, not more not less for them. If you can strategize and observe long enough, you'll notice a pattern (like i did) and outbid them!
4) Bid for less popular items
Chances of you winning those less popular items are more likely. However, you'll never know~
5) Don't be too greedy
Play smart and keep track of what you do. Don't let your greed take over
6) Keep track of your tokens and how much you've spent bidding.
You don't want to spent 10000 tokens on just one psp right? Keep track of how much your spent and you'll be able to win more prizes at lower costs.
AND NOW I'LL SHOW YOU HOW I BID!!!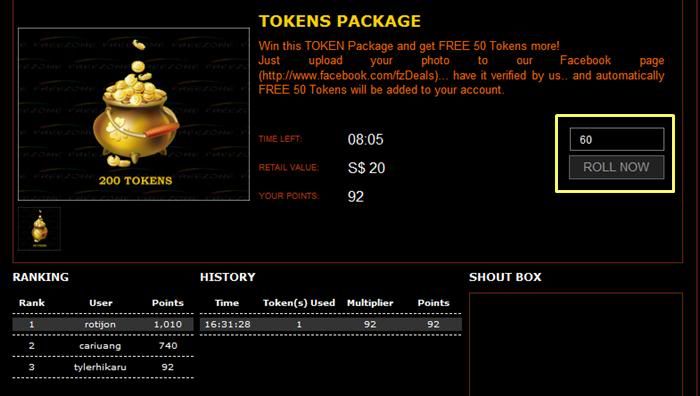 I placed 60 tokens to try and win the 200 tokens package but....
I LOST OUT BY 100 POINTS!!!! That guy (bidskingwin) sure is lucky ):
But nontheless i didn't give up and eventually .....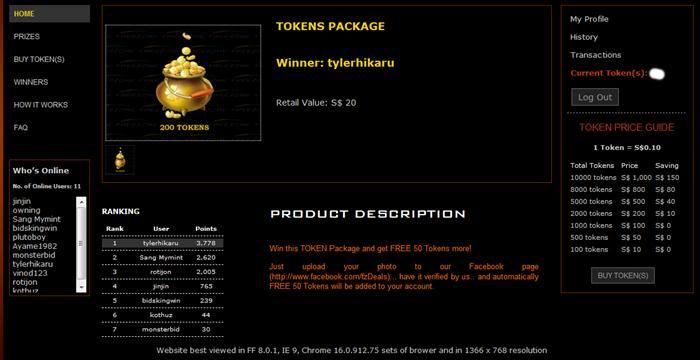 I WON!!!!
But what actually impressed me was not my victory (yes yes i'm delighted that i won), but the efficient and fast service from
Freezone
!!! Within a few minutes of my actual victory, they sent me a email notifying me of how i'm able to collect my prizes!!! Talk about professional service!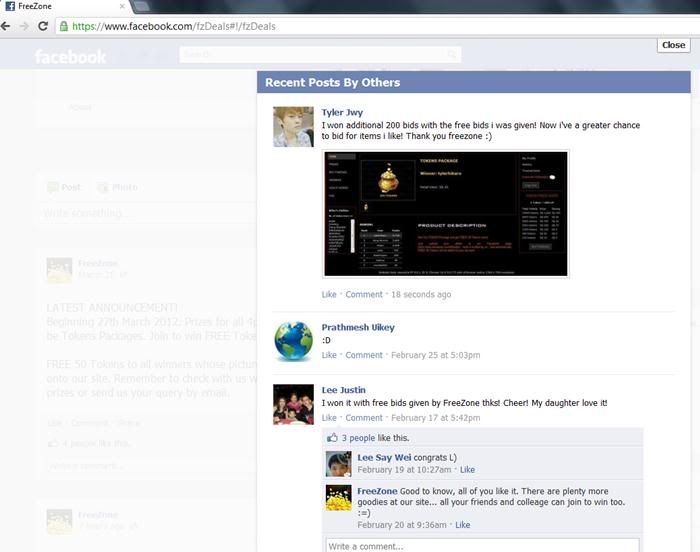 AND GUESS WHAT.
That's not all
!!! After winning, all i have to do is just post up my victory picture on
Freezone's facebook page
(LINK)
and i'll get an
additional of 50 tokens
credited into my account!!!
From now on, I'll count on
Freezone
for all the
great prizes
they have!!!
Including
and
ESPECIALLY
the latest cool gadgets and also luxury items for myself !!
AFTER READING THIS, You must be itching to register for this site yourself and win yourself some free gadgets or luxury items for yourself, RIGHT?
Happy rolling and don't forget to thank me when you win some awesome prizes!!! :P