HI PEOPLE !!!
This post was supposed to be up like 2weeks back but I was really cropped up with many things and i'm currently really really really busy.
I've yet to post up so many posts that i've been delaying for the past few weeks.
I've yet to even post up my tips on growing taller for you guys (and also my 3ds/insoles giveaway!)
Soo cut me some slack and let me clear off my work load, one by one. Okay? :)
SOOO like the tittle mentioned, 2 weeks back i went to one of my cousin's wedding (also the same day where i filmed the video tutorial).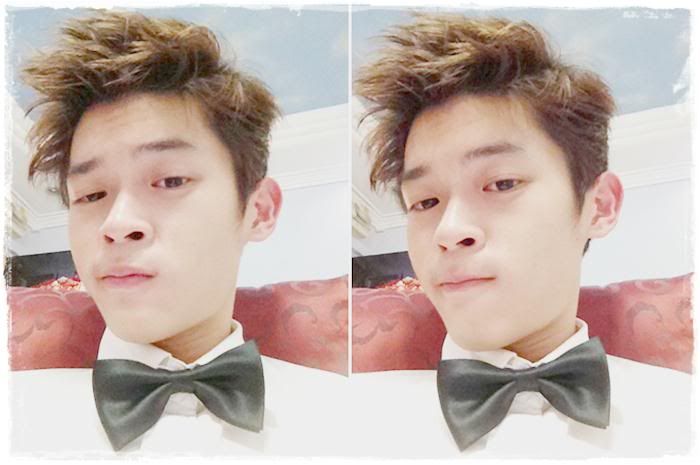 Some self taken pictures before leaving the house :)
The wedding was held at Bugis Intercontinental Hotel !!
I always love attending weddings as it means that the children/teens (like me!) get to eat awesome food that we only get to eat like .. once in a while?
What's more our parents are the one footing the angpaos so the food naturally tastes even better LOL.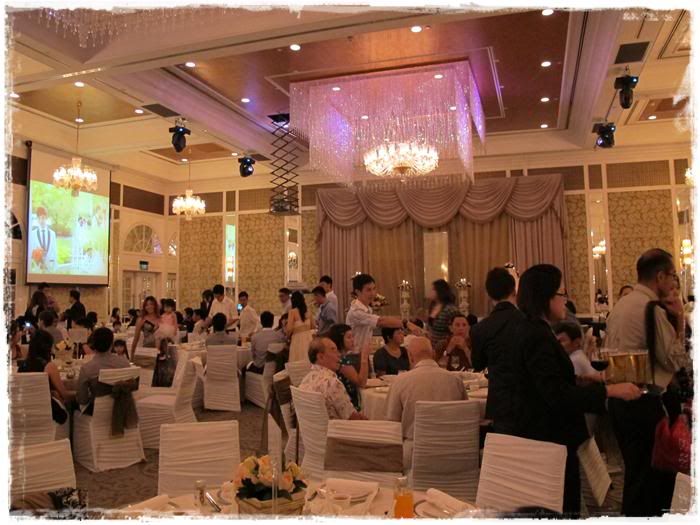 I didn't take much pictures of the wedding that took place that day as my family's table was kinda far (like 4-5 rows from the front) and honestly speaking, i was kinda lazy LOL.
I was really really tired that day, having to film the video and pack the orders for TWP.
SO LIKE I SAID, CUT ME SOME SLACK. Haahhaa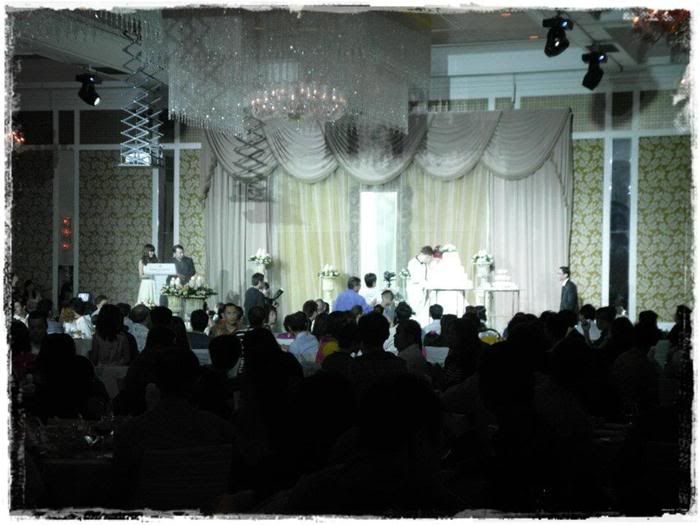 Some of the food served that day.
1) Sticky as table gifts :)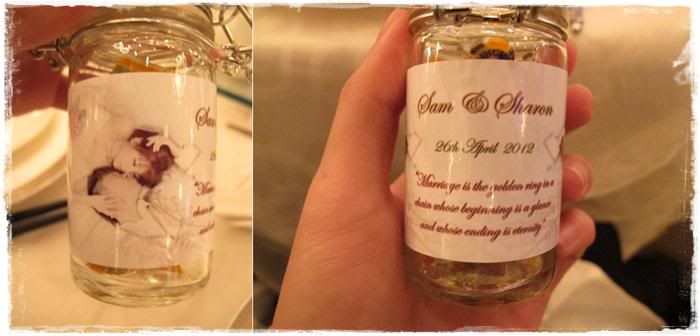 2) Suckling pig combination (Suckling pig, Prawn salad, Crispy spring roll, Marinated sea asparagus clam with thai spicy dressing and chicken simmered in chinese white wine).
The sea asparagus calms was the most yummy one for me as it has a very fine and exotic taste !!!
3) Braise shark fin soup with fresh crabmeat and roe.
Honestly speaking, I know that many people detest people taking shark fin now due to their brink of extinction. However it's actually a chinese tradition for us to have shark fin soup during really special occasions (in case you don't know) . So spare me yeah! Don't start bashing on me cause i'm having it cause it's really yummy too :P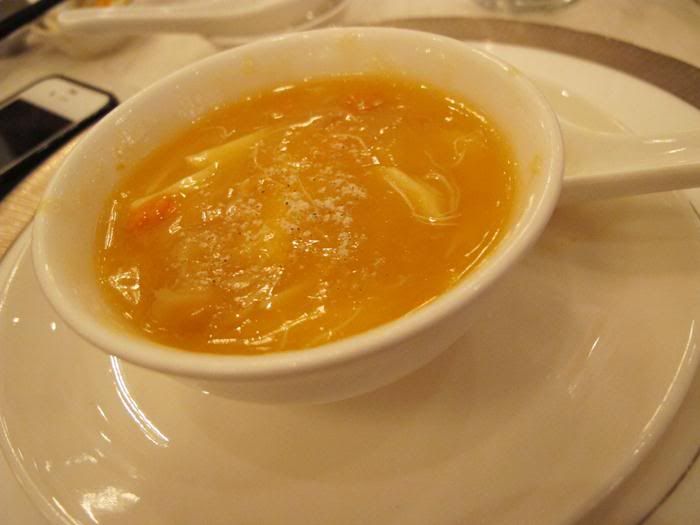 3) Sauteed fresh scallops with Shimeiji Mushroom and Seasonal greens in X.O sauce
Honestly speaking i think that their scallops were REALLY REALLY fresh and yummy together with the X.O sauce. However i don't see any mushrooms anywhere -_- I'm wondering if it's the yellow noodle-like thingy.
Something to brighten up your day. A 'muack' face done by one of my aunts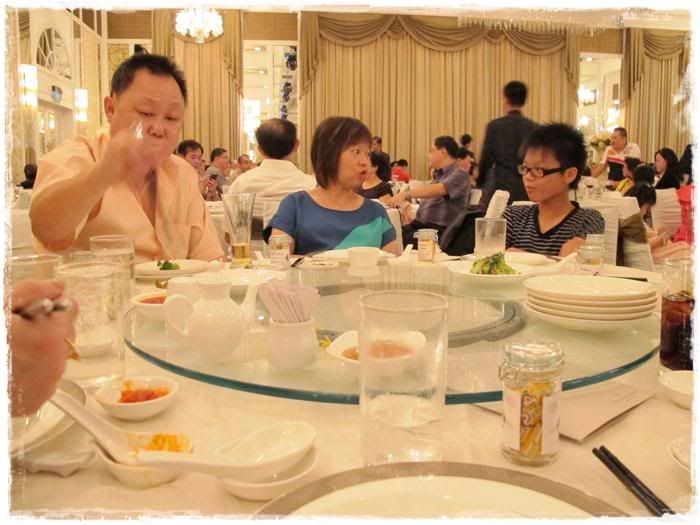 4) Steamed live grouper with lily flower and black fungus.
Not amazing. Tastes very ordinary ._.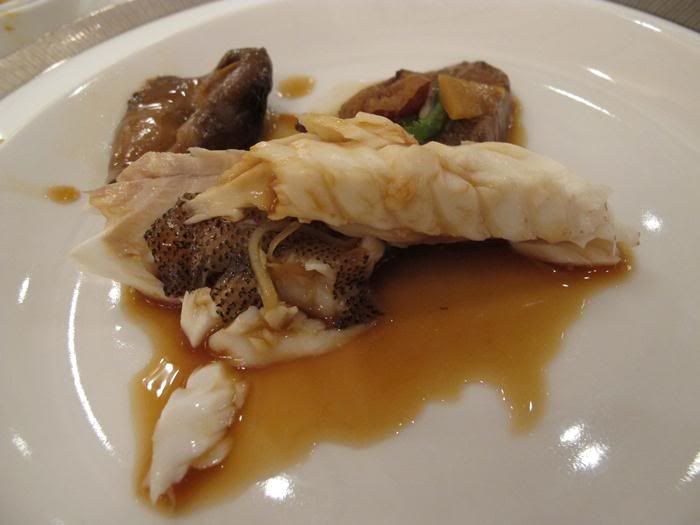 5) Braised south african baby abalone and sea cucumber with chinese cabbage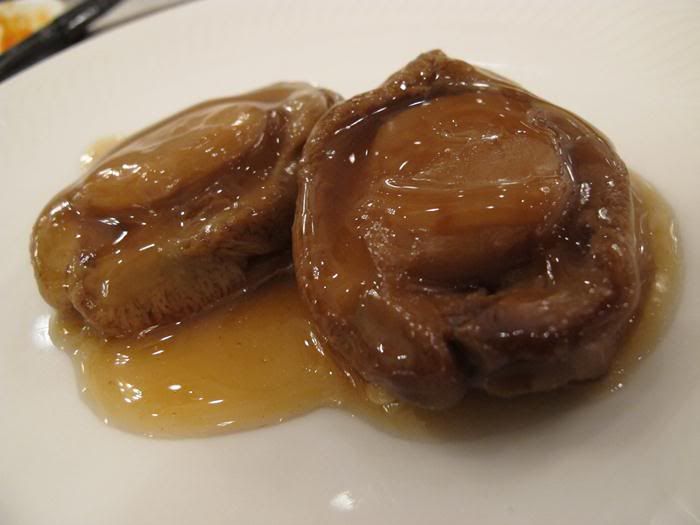 I like to eat my abalone in thin slices! So i spent a couple of minutes slicing it one by one.
However it turned out that the abalone had a very strong " Xin wei " (the fishy smell) so i had to pass all of them to my mum to finish.
6) Roasted Crispy Duck
YUMMY. I love crispy ducks and i don't mind finishing all the crispy skins :D
Okay enough of the food and on with the pictures of me and my family !
I know i actually look weird here but i'll tell you the reason why after you look at the picture below.
As i was sitting on the very right. I had difficulty in operating the camera (camwhoring to be exact). So i had to take the picture in an inverted way to ensure that my bro, dad and mum would be in the picture.
Thus i wasn't really looking on the camera during that picture.
So here's one picture to compensate for the previous ugly picture of me :D
With my cousins.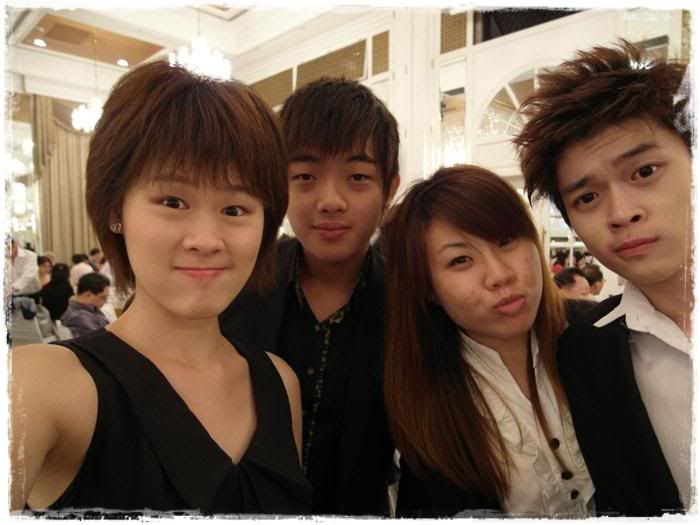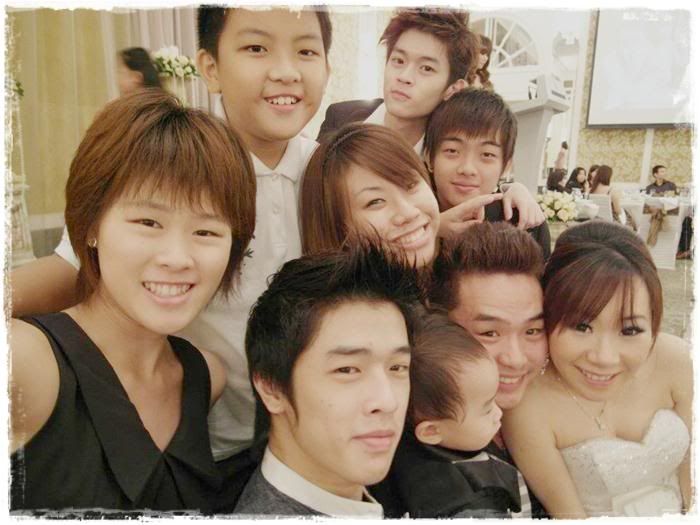 With the bride and groom of that day! :)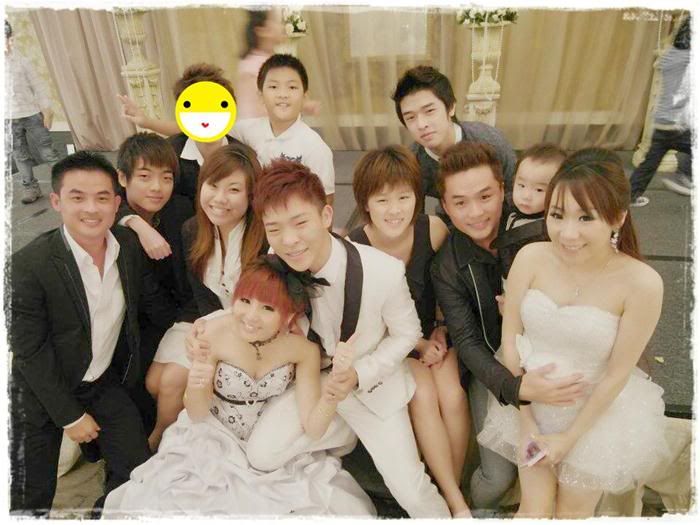 MY BEAUTIFUL AUNT AND UNCLES + MUMMY/DADDY
Family photo of my parents + relatives + cousins + grandpa + x2 grandma (My grandpa had 2 wifes) + relatives from the other grandma.
New post will be coming up soon!!!