Happy Labour Day Everybody!
Today's i'm going to introduce you a site called
LobangBids
for you to spend your Labour Day!
What is LobangBids ?
Well basically it's a pay-to-bid site! Everytime you hit the "BID" button for an item you want, you'll be using up a few bid credits for each bid, depending on each auction. The thing is, even though it's pay-to-bid, it's totally possible for you to actually get a smartphone, camera or your favourite products/vouchers at under $10!
It may sound kinda confusing at first but it's not! You guys really need to give it a try!
What are some of the prizes i can win from LobangBids ?
The picture shown below are some of the prizes that you can win from Lobang bids! THAT'S NOT ALL !!! They have gift vouchers, ipads, smart tablets/phones and any luxury items you can think of! I'm currently thinking of winning myself an external hard drive :)
More about Lobang Bids
LobangBids was established on the
25th September 2011
as an online aunction site that was meant for people who are keen to get the latest products at really competitive prices. What they promise to ALL OF YOU is that they'll bring you the best products at prices where you can never imagine. They will fulfill all their promises stated on the site (www.lobangbids.com) and all of you can also be assured that each transaction is transparent and they hold business ethics with high regards.
Now that you know about Lobang Bids.
LET'S GET STARTED!!!
1) Firstly, head over to http://www.lobangbids.com . You'll see something like this.
2) Click on the register tab and create an account now to receive 20 free bids!
3) If you think 20 free bids is too little, you can opt to purchase additional bids at prices as low as 10c per bid! Get additional bids when you purchase more!
4) Now once you've stocked up on your bids. You're ready to go!
Now i'll be explaining to you some of the standard/special aunctions available on the site!
This is the standard aunciton. As you bid, the price increases -> Countdown reaches 0 -> You win !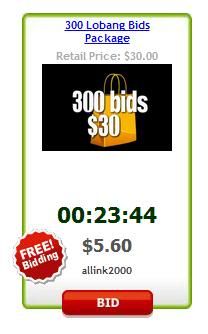 A free auction does not require you to pay to bid! Meaning it's FOC !! You can bid as many times as you want and only pay for the final bid price once the auction is closed (countdown reaches 0). Someone won a OSIM umist baby recently and the person paid for less than half of the original price, I'M ENVIOUS!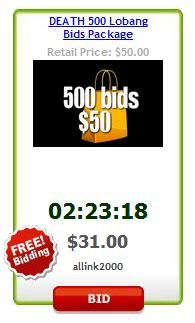 Death auction. An auction that can end anytime and if you're the highest bidder. YOU WIN!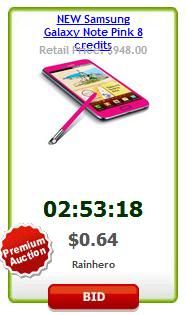 Premium auction. Obviously means that the product that you're auctioning for is a premium product like smartphone/tablet and such. Never miss out on such aunctions!
Now let's look at the live auctions available at the moment!!! You can choose what you want to auction for!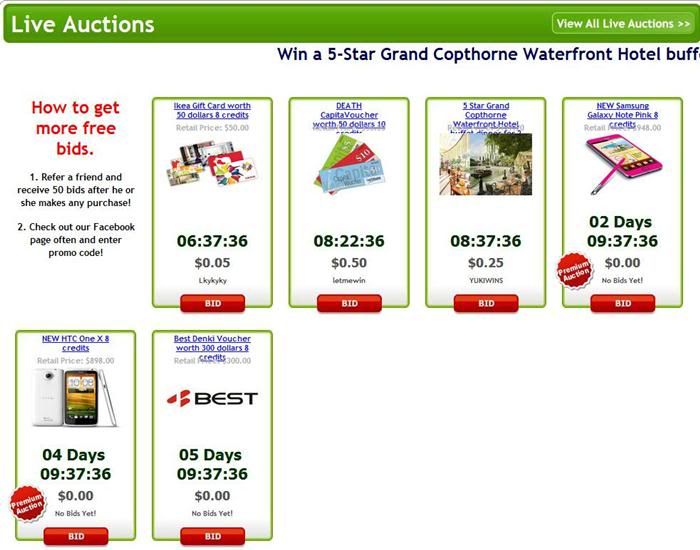 This Sponge bob toaster really caught my eyes haha. Isn't it adorable? :3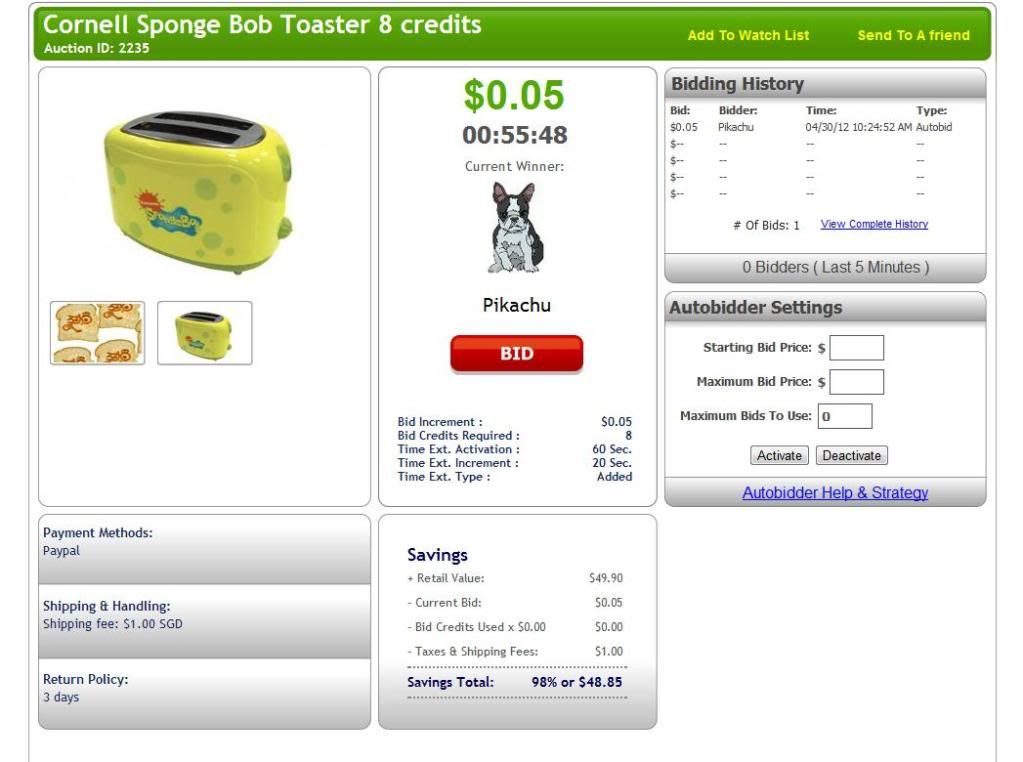 Basically all the details are very exact. The page will tell you the savings that you'll save from auctioning for the product, how many tokens you used, the shipping fee (which is a $1 fixed), original price of the product and also profiles of the other bidders!
Now here comes the thing that can make you really wonder... Why choose LobangBids? Why not other sites?
Well for starters, I think that you should choose LobangBids over other sites as they give out free bids EVERYDAY! Yes they give out free bids everyday and all you have to do is enter the promo code stated on the page itself.
Basically you just have to click on the " Enter a promo code and get free bids! " tab and enter the promo code to receive the free bids!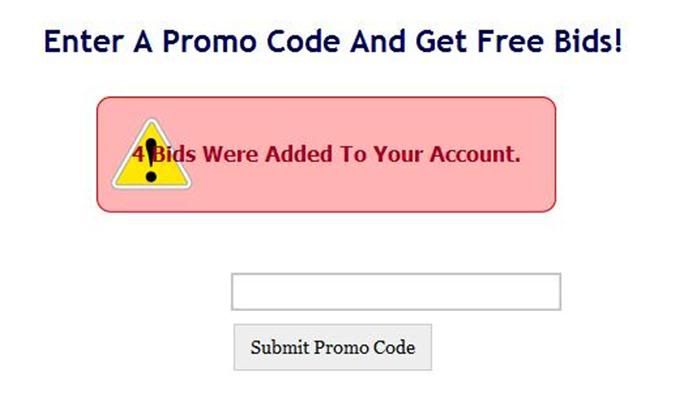 Secondly, they have an updated database that includes the pictures of the winners to prove their authenticity. No need to worry that they're cheating your money as these people are living proof ! Site:
www.lobangbids.info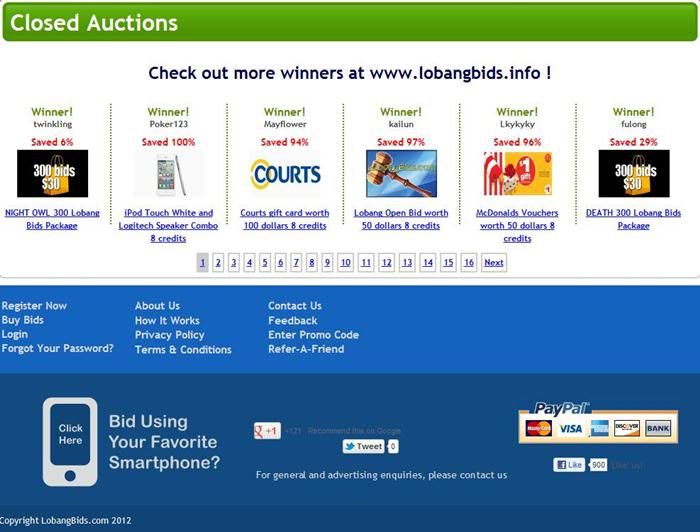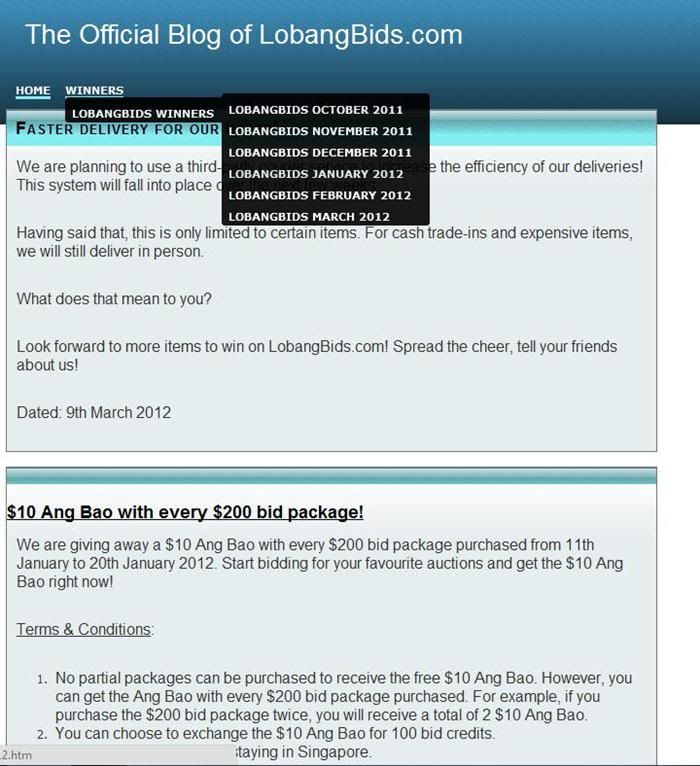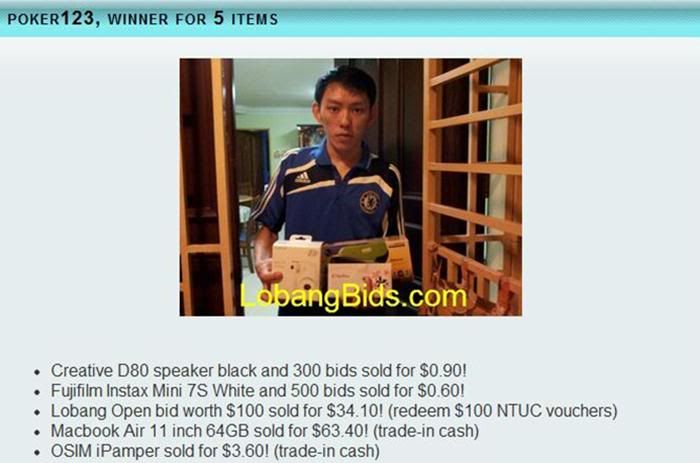 Lastly, whenever you refer a friend. You can 50 free bids everytime they make a purchase!
Simply click on the " refer a friend " tab after logging in to refer a friend! Simple enough
That said, I think i shall stop explaining and let you guys experience the real thing!
I wish you luck and once again, Happy Labour/Lobang Day!